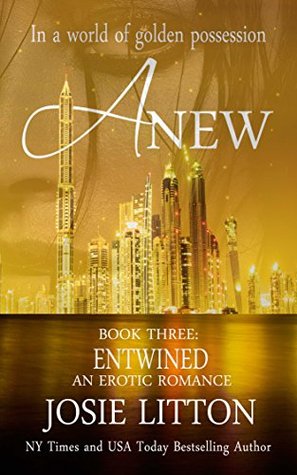 Amelia and Ian's story comes to a stunning conclusion in Book Three of this erotic retelling of "Sleeping Beauty" set in the near future. Escaping deadly danger in the glittering city of Manhattan, the lovers find refuge on an island sanctuary where beauty disguises lethal intent.
As they seek to bridge the chasm of lies and half-truths that threaten to destroy them, they discover a new, far deeper love that opens the way to healing and redemption.
But when a deadly enemy threatens to strike again, Ian and Amelia have no choice but to return to the world beyond the island. There they must confront their ultimate fears and together find the means to save everything that matters most.
*Contains sexual content. Intended for mature audiences.*
Overall Rating: 5 Rockin' ★★★★★
In concluding the series with ANEW book three: Entwined, Josie Litton's profound sense of humanity is displayed yet again in this magnificent piece of work. Through trust, erotic romance and undeniable love, Josie emboldens her characters with such a deep passion for life in this beautifully created fictitious world of the future. Continuing on the journey of Ian and Amelia, this final novel will answer questions and fulfill the desires of its readers.
Ian Slade owns and runs the top security business in the world. He has the best technology that money can and can't buy. He has an intrinsic soul to protect anyone and everything that needs his help. Ian needs to protect Amelia, needs to make sure that the world that she lives in now will not fail her. Ian will do everything in his power to make that happen even if it kills him in the process.
Amelia McClellan woke up months ago to her dark prince. She wants Ian with her whole being and needs him like she needs her next breath. But when Ian is severely wounded, life changes around her. Amelia must learn to protect herself not just mentally but physically as well. Not only that, but she needs Ian to know that she can protect herself and contribute to their life as well. However, the one thing that will never change for Amelia is her desire and devotion to Ian Slade.
Facing their deepest fears and harshest enemies, Amelia and Ian take on this futuristic world together in this final book. Although, finding a compromise to do so is daunting for both of them, but in the end love always finds a way. The realization of Amelia's beginnings as a clone and Ian's cruel and shameful upbringing brings the couple to a finale that will keep readers talking about it and longing for more.
I was captured immediately by the brilliance of this author's writing. Josie has a unique style which will entertain, entrance and give the reader an overall sense of bliss. This ANEW series is by far one of my favorite Sci-Fi reads of all time. I was amazed by the seriousness of conversations on topics that are close to my heart as well as our own humanity in the world today. What a magnificent work of art!
Hero: Ian Slade 5.0 stars
Heroine: Amelia McClellan 5.0 stars
***Received an ARC of this book from the Author in exchange for an honest review***