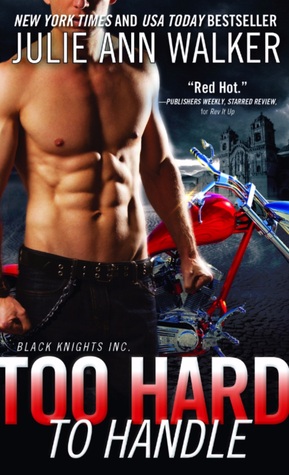 "The Man" is back
Dan "The Man" Currington is back in fighting form with a mission that takes him four thousand miles south of BKI headquarters, high in the Andes Mountains of Peru. He's hot on the trail of a rogue CIA agent selling classified government secrets to the highest bidder, when Penni DePaul arrives on the scene. Suddenly the stakes are higher, and keeping Penni safe becomes Dan's number one priority.
And this time she's ready
A lot has changed since former Secret Service Agent Penni DePaul last saw Dan. Now a civilian, she's excited about what the future might hold. But before she can grab onto that future with both hands, she has to tie up some loose ends-namely, Dan Currington, the man she just can't forget. And a secret that's going to change both their lives-if they can stay alive, that is.
New York Times and USA Today bestselling author Julie Ann Walker continues her red-hot Black Knights Inc. series in rough-and-tumble Peru
Overall Rating: 4.5 Rockin' ★★★★☆
When you are a member of a secret agency that serves the President the label BAD A$$ is so appropriate. Too Hard to Handle by author Julie Ann Walker delves into the world of spies, moles within the government and KICK A$$ agents that never quit until they get their man! In this the eighth book in the Black Knights Inc. Series, we get to catch up with and focus on Dan the Man Currington and his new love interest, Agent Penni DePaul. Can these two scared individuals find a way to heal and put the past behind them. Read this fast action, sizzling hot romance and find out!
If you are looking for a bigger than life hero, look no further, Dan the Man Currington is all that and more! He is a strong alpha male character with a sensitive side that all women dream of. Suffering the loss of his wife, Dan had gone off the deep side, found himself an alcoholic and letting his brothers down. While on a mission he meets Secret Service Agent Penni DePaul and sudden feels alive again. The mission they are on goes south and he loses track of Penni.
She found the man of her dream and lost him all in one horrific night! Penni thought they had a connection but after a few months and not hearing from Dan, she knows she will have to go see him. The consequences of their mission have come back to haunt her. Dan is on another mission in Peru, so Penni decides to go and find him. While there she becomes part of the mission and has to face her nightmares and explain why she needed to find Dan. The connection is still there between them and she feels like maybe she will have that forever with him. But the past rears its ugly head and threatens to tear them apart!
This is an exceptional addition to any ones library. The author weaves an unforgettable tale with some many kinks and gotcha moments that you will not put it down until the last page is read. Hoorah to this talented writer and the extraordinary characters and storylines she has created.
Hero: Dan Currington 4.5 stars
Heroine: Penni DePaul 4.5 stars
***Received an ARC of this book from the Author in exchange for an honest review***