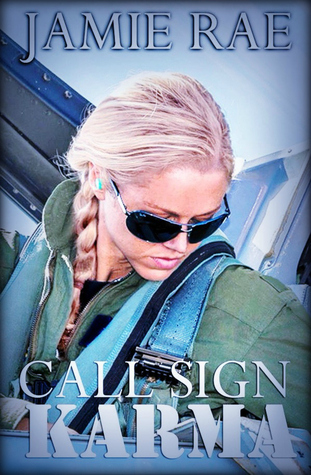 Love in the no-fly zone…
Distraught over the loss of her brother in a fighter jet accident, Tinklee Pinkerton decides to follow in his footsteps and prove the tragedy wasn't his fault. But when she's chosen as the first woman to fly the Air Force's F-35, her plan for a life that revolves around work is thrown off course by a handsome, mysterious stranger…
Thanks to Locke's seductive British accent, sweet nature, and one too many beers, Tink is soon inspired to throw caution to the wind and herself into his arms. She thinks maybe love can heal after all—until she discovers Locke is her superior officer. Tink has no problem risking her life in the air, but with everything on the line, is she brave enough to risk her heart on the ground?
Overall Rating: 4.5 Rockin' ★★★★☆
Life is for soaring at supersonic speed in a jet that you control as the pilot. In Call Sign Karma, author Jamie Rae explores the life, love and drama of being a fighter pilot. This unique story gives insight into not only male pilots in the military but also the plight of females trying to break into that rarified group. Our main characters are part of this exclusive group of men and women as they learn to serve their country.
With a name like Tinklee Pinkerton you should be use to jokes, but when you have been accepted into a program for elite fighter pilots it can be hard to bear. When Tink lost her BFF, her older brother, she made a vow to investigate and prove that it was not pilot error but something wrong with the jet he was flying. She is accepted into a program that will allow her to fly the same jet her brother was killed in, the jet she witnessed him dying in! A new kink is added when her instructor turns out to be the man of her dreams, and her one night stand.
Locke is British Royalty and is also an Ace Instructor with the Royal Air Force. He is on loan to the US Military to help train an elite group of fighter pilots. He meets a woman while walking on the beach and the chemistry between the two of them blows his mind. They end up spending the night together only to find out the next day that she is one of the pilots he is to help train. With the strict code of conduct for officers, how will Locke and Tink continue their relationship? Things transpire to separate the two would be lovers and their chance for a HEA!
Hero: 'Duke' Locke 4.5 stars
Heroine: Tinklee Pinkerton 4.5 stars