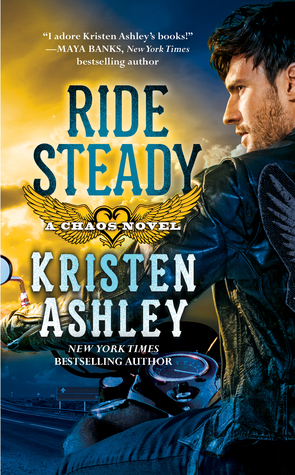 The ride of her life . . .
Once upon a time, Carissa Teodoro believed in happy endings. Money, marriage, motherhood: everything came easy---until she woke up to the ugly truth about her Prince Charming. Now a struggling, single mom and stranded by a flat tire, Carissa's pondering her mistakes when a vaguely familiar knight rides to her rescue on a ton of horsepower.
Climb on and hold tight . . .
In high school, Carson Steele was a bad boy loner who put Carissa on a pedestal where she stayed far beyond his reach. Today, he's the hard-bodied biker known only as Joker, and from the way Carissa's acting, it's clear she's falling fast. While catching her is irresistible, knowing what to do with her is a different story. A good girl like Carissa is the least likely fit with the Chaos Motorcycle Club. Too bad holding back is so damned hard. Now, as Joker's secrets are revealed and an outside threat endangers the club, Joker must decide whether to ride steady with Carissa---or ride away forever . . .
Overall Rating: 4.5 Rockin' ★★★★☆
Young love will haunt you and never let go until it is reunited. In this novel by the multi-talented author, Kristen Ashley you will experience not only the drama of unrequited first love but also the redemption of that love when fate steps in on the side of the interstate with a flat tire! Ride Steady is the story of two souls that were meant to be together and how they found their HEA!
Left with an abusive father as a small child, Carson Steele lived each day as though it was his last. Tortured, beatings, demeaning abuse by a man that really did not deserve the title of father was all normal every day life for Carson. He had a few neighbors that stepped up and tried to help and a teacher that saw the unique person that Carson really was. But the one person that filled all the spaces in his heart was Carissa Teodoro. She was a beautiful, kind, popular girl at school that stole his heart when she was only fourteen, a girl that he felt was too good for someone like him. He could only dream of having a father like the man at the Chaos Garage, a girl like Carissa and a place where he belonged and was accepted. So when he could not take it any longer, he fought back and left that sad boy behind. Carson Steele grew into the man 'Joker' a brother of the Chaos MC.
Carissa had it all, money, clothes, friends and the most popular boy in school. She was a cheerleader, Prom Queen and everyone loved her. But the boy that she wanted didn't see her, Carson Steele. When he left, she eventually married her high school boyfriend and had a beautiful baby. That's when she found out that the man she married was a cheating, lying out for himself swine! She found herself and her baby stranded on the interstate with a flat tire and no one to call for help. When a long haired, bushy bearded motorcycle guy stops to help, she is leery at first, but cannot deny the attraction. Carissa does not recognize the boy in the man that she had a crush on in high school, but the man does recognize the girl he had always loved.
Old friends flow through this book as Butterfly and Joker work their way towards a new beginning that they both deserve. We get updates on characters from previous Chaos MC books as they rally behind and help. This is a book that you will not want to miss reading because it has it all! Love, drama, family and really amazing friendships!
Hero: Carson 'Joker' Steele 4.5 stars
Heroine: Carissa 'Butterfly' Teodoro 4.5 stars
***Received an ARC of this book from the Author in exchange for an honest review***