All About Ella James
Ella James is a USA Today bestselling author who writes teen and adult romance. She is happily married to a man who knows how to wield a red pen, and together they are raising a feisty two-year-old who will probably grow up believing everyone's parents go to war over the placement of a comma.

Ella's books have been listed on numerous Amazon bestseller lists, including the Movers & Shakers list and the Amazon Top 100; two were listed among Amazon's Top 100 Young Adult Ebooks of 2012.

To find out more about Ella's projects and get dates on upcoming releases:
RELEASE DATE: February 25, 2015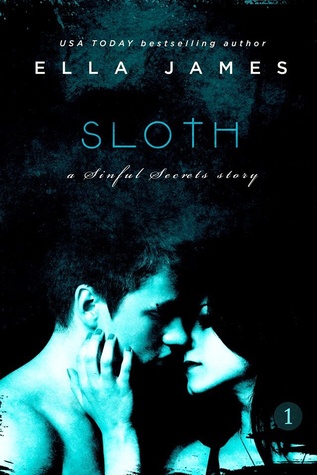 I whirl around, because I need to go now. Need to run.
He grabs my arms, snatching me around to face him, holding me in front of him. Holding me still as he tries to tell me things I never want to hear. "Stop it! Shut up! Shut up, Kellan! Fuck you!" He pulls me closer, and I slap his face. The sound echoes through the foyer. His smooth, tanned check stains brilliant crimson. He doesn't move a muscle. Doesn't even blink as I look at him for what I know will be the last time. I'm sorry. His lips move silently. I don't care. I can't. His secrets ruined my life. He ruined my life! If I live to be hundred, my heart will never be the same.
Note: Sloth is the first in my new Sinful Secrets series. Each intense, erotic story is inspired by a sin, and centered around a life-altering secret. Each "sin" stands on its own, so they don't have to be read in order. After Sloth, I'm writing Murder. Between these two, I'm releasing a stand alone: a more traditional romance called The Boy Next Door.
BEAST - PART 1
Free on iBooks
Free on B&N
FROM HOLLYWOOD ROYALTY At twenty-one years old, third-generation movie star Cal Hammond was on top of the world. He had more money than God and more women than any man could need. But when a night of debauchery ends in tragedy, he forfeits a life of luxury for a ten-year prison sentence at La Rosa, California's most violent prison. TO A BRUTAL BEAST Eight years later, a ruthless, cunning man runs La Rosa from the inside. He is known simply as BEAST. All the wardens fear him. All the gangs obey him. He speaks to no one but his inner council. What he says is law. NOW ONLY SHE CAN SAVE HIM Annabelle Mitchell's father is the warden at La Rosa. He deals as dirty as his trustees, and after years of smooth relations with Beast and the gangs he runs, Holt lands on the powerful prisoner's hit list. That very afternoon, Annabelle pays a surprise visit to her father's work, hoping to use her new counseling license at a place she thinks she could make a difference. When she catches Beast's eye, he releases the warden and grabs the daughter. The price for the warden's error is not death. It's his precious Belle.

BEAST - PART 2
Purchase on Amazon
Purchase on iBooks
Purchase on B&N
Continue the dark, erotic journey of Annabelle, the warden's daughter, and the man she's pined for since high school. No longer Cal Hammond, actor, Beast is a brutal man who runs La Rosa Prison's gangs from behind a shroud of secrecy and lies. Can Annabelle's love save him from his tainted past, or will his deceit ruin both of them? *Beast 2 is a serial novella. If you don't like novellas, or reading stories in installments, this probably isn't for you. It deals with intense subjects and features absolutely panty-melting sex. If you're on a bus, in the subway, in your office, or babysitting innocent children, I'd advise you to read this story later. If you just can't wait, be warned. Beast will make you wet.
Return to La Rosa Prison as Annabelle tries to save Beast from his grizzly fate. Her tongue and hands are doing most of the saving.
Okay, not really.
There's suspense and a healthy dose of smut, too. You know that's how you like it...
If you read Beast part three, and you should have, since these are serials, I don't think I need to entice you to one-click this novella. Beast and Annabelle are f*cked - and you know they're f*ckING, too. Grab your guns and a few extra pairs of panties! We're on the lam, and it's sexier than ever.
ibooks:
https://itunes.apple.com/us/book/beast-part-4-erotic-fairy/id922086087?mt=11
AUTHOR'S NOTE: This story is not panty-melting. Your panties won't have time to melt, because they will fuc*ing evaporate. Poof! But let me level with you: It is crazy. It is dark. You have to trust me. You will find both Gretel and Hansel to be completely fuc- lovable. You have my word. P.S. It's not fantasy. It's contemporary erotica. P.S.S. No one in this fairy tale is related
HANSEL (Book One) Free
My name is Gretel. I'm the dish-washer. The kitchen girl. I'm not one of Mother's pets. I'm just a storybook girl no one sees. Until that night. When I find him again, and all my dreams come to life.
He's mine—the one called Hansel. I've come here to claim him.
I remember her. I need her. She is mine.
I'm Hansel, a crazy woman's toy. It's taken years, but I've finally forgotten everything outside my life here in The House. I live for sex and nothing more. Until I see her. Gretel.
HANSEL #2 (Book Two)
He was Hansel. She was Gretel. Once upon a time, they shared a prison wall inside a crazy woman's house. When they meet again, he has a whip. She wears a mask. And fear runs high - for so many reasons. What will happen when the mask comes off, the walls come down? Fairy tales are cautionary tales, remember?
HANSEL #3 (Book Three)
In part three of Hansel's story... Limits are pushed, walls come down, and secrets are revealed. Fairy tales are cautionary tales, remember?
Gretel.
They were captives who shared a wall, and cut a hole in it so they could hold each other's hands. Until he killed their captor, Mother. Then he disappeared, and as the world swooped in to save the Children locked away in Mother's house, the girl called Gretel became...lost. No breadcrumbs.
Finding Hansel, years later, is the shock of Leah McKenzie's adult life. Finding out how far she'll go for him - that's no surprise.
Leah's given Hansel - Lucas, he says it is - every piece of herself. And he's been both cruel and kind.
What they share is dangerous.
Their history is twisted.
Their hearts already broken.
And that's before the secrets are revealed.
This is an erotic fairy tale inspired by Little Red Riding Hood.
The first installment was originally featured in the BEND Anthology
Red and Wolfe: Part 1 by Ella James
Contemporary Erotica 35 Pages
When Sarah "Red" Ryder loses her job as an art critic for a Boston newspaper, she's brokenhearted. Worse than that? She's broke. Her boyfriend recently left her - for a tatted-up hottie with a dick - so she's stuck paying her hefty apartment rent alone. After two months unemployed, there's no money left. With no immediate family to turn to, Red reaches out to her estranged grandmother, a reclusive writer living on an island off the coast of Charleston. Several days later, Red receives $30,000 and an invitation to visit.
James Wolfe is not Red's grandmother. But he beckons her. Red has the ability to give him something he needs. He won't take "no" for an answer, and he doesn't mind screwing her over. He lost his conscience six years ago, when he was tried for the murder of his wife. Since then, life is about him - and the paintings he does under the mysterious pseudonym "W."
Wolfe needs the island to keep painting. To live his life away from prying eyes. To keep up the anonymity of "W."
Once he sees Red, he finds that he needs her, too. And Wolfe will have her. Any way he can.
Start the series for FREE
Amazon:
http://tinyurl.com/qjf94pg
Barnes and Noble:
http://bit.ly/RedWolfePart1-BN
IBooks:
http://bit.ly/RedWolfePart1-iBooks
Kobo:
http://bit.ly/RedWolfePart1-Kobo
Red and Wolfe: Part 2 by Ella James
Contemporary Erotica 65 Pages
Return to Rabbit Island for the erotic second installment of Red & Wolfe, the sensual story of exiled playboy James Wolfe and writer Sarah "Red" Ryder.
Continue the story for just 99 cents!
Barnes and Noble:
http://bit.ly/RedWolfePart2-BN
IBooks:
http://bit.ly/RedWolfePart2-iBooks
Kobo:
http://bit.ly/RedWolfe2-Kobo
Red and Wolfe Part 3 by Ella James
Return to Rabbit Island with Red and the illusive Rafe for the hottest serial installment so far. I'd bring at least two pairs of extra panties if I were you.
Red and Wolfe Part 4 by Ella James
Contemporary Erotica 112 pages
Return to Rabbit Island for the heart-pounding conclusion to Red and Wolfe's story. Don't forget your extra panties - but this time, you might also want to bring your gun.
Purchase the Heart Pounding and Panty Wetting conclusion!
Selling Scarlett (Love Inc. #1)
Elizabeth DeVille doesn't belong at a party like this - one where the gowns cost more than her Camry and cigars run higher than her grad school utility bills. Dragged out of seclusion by her best friend Suri, Elizabeth is merely playing dress-up, rubbing elbows with a crowd that banished her troubled family years ago.
Hunter West is tired. Tired of parties, tired of pretending, and tired of trying to right a wrong that haunts him every day. Bourbon heir and professional poker player by day, by night Hunter is gambling with his life in a high-stakes game of crime and blackmail.
When Elizabeth stumbles into Hunter's den of vices, she's a light in the darkness, a flame in the void. And, just like everything he touches, Hunter mars her in a record time. To rectify the damage done, Elizabeth needs money she doesn't have, and she's come up with a foolproof way to get it.
Follow Elizabeth - code-named Scarlett - to the lush Nevada brothel where she'll auction her virginity and risk the only thing that's not for sale: her heart. The highest bidder is a familiar face, with wicked hands and the devil's mouth. And a secret so dark that it could cost her life.
Taming Cross (Love Inc. #2)
For twenty-three years, Cross Carlson was a playboy. You know the type. Tall, dark, and wealthy. Blue-eyed. Charming. He seemed to have it all so easy. But Cross was harboring a terrible secret - one that helped ruin the life of an innocent girl and almost ended his own.
Finally out of the hospital, Cross is flailing, scarred in both body and mind and stifled by the weight of the secret he still keeps. The only way to absolution lies in a Mexican convent, and going there could cost him everything.
If there's anyone who knows what it's like to screw up big time, it's Meredith Kinsey. Just a few years ago, Merri was an ordinary girl with a job at her college newspaper and white picket fence kind of dreams. Now she's holed up in a Mexican convent, hiding from a drug lord who thinks he owns her.
What happens when the only way out of hell is with the son of the man who put you there? They say love conquers all, but does it really?
Marchant Radcliffe, owner of the exclusive Love Inc. brothel, is no stranger to darkness. He lost his parents in a plane crash and since college has harbored a secret almost too terrible to bear. He keeps his head above water by pouring his energy into his business—and he's thrived, despite the dark blot on his soul.
Then, after ten years of good fortune, Marchant's skeletons start to peek out of the closet, tossing him down a trail of ruin that begins with arson and could end with murder. Because he's kept his struggles private, he has no one to pull him back from the brink.
After a breakup with her longtime fiancé, Suri Dalton, daughter of one of Silicon Valley's tech tycoons, has nowhere to go except her BFF's new penthouse in Las Vegas. The last thing Suri is looking for is a man, but after drowning her woes in wine on the flight over, she stumbles into a torrid make out session with a beautiful stranger—who just so happens to be Marchant Radcliffe, playboy and literal pimp.
Despite an immediate attraction, Suri writes Marchant off as exactly the sort of guy she should avoid. Until Love Inc. goes up in flames, Marchant winds up at the bottom of a swimming pool, and Suri is the only one around to pull him out.
What happens when what you see isn't what you get? What do you do when destiny is too alluring to resist and too dangerous to survive?