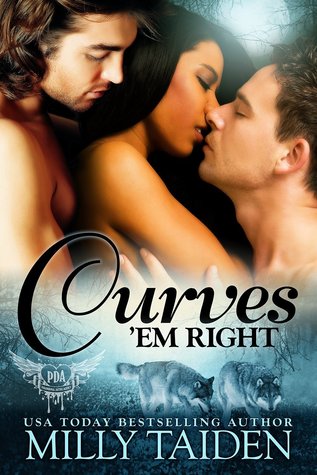 Paranormal Dating Agency Book 4 - STANDALONE
A BBW in search of love + two sexy wolf shifters ready to claim her as their mate = Sizzling Ménage Romance
Daniella Flores is looking for a good man. A man who will accept her as she is and go crazy for her curves. So far she's had no luck in the romance department and is worried she might never find the right one. When Mrs. Wilder of the PDA offers to help, Dani is all for trying anything. Mrs. Wilder promises to find her love, romance and hot sex. What woman in her right mind would say no to that?
Kane and Blake have been searching for a mate to complete their Alpha triad. There's just one problem: they've yet to find a woman they both want. Not to worry, Kane's mother comes to the rescue and brings in the PDA. Unfortunately for them, Mrs. Wilder has something up her sleeve and it's not a bra. When they meet their mysterious date, they know she's the woman they need.
A masquerade ball brings Dani and the shifters together. The two men who are really good friends with Dani's overprotective older brother. She'll get one chance to finally live the fantasy night she's always wanted with the wild wolves. Besides, it's not like they could really want her for a mate. It will take some maneuvering for Kane and Blake to keep Dani, not lose their friend and their pack, and prove her curves are the only ones they want.
Reader Warning: This book contains panty-melting sex (the kind that makes you need fudge and a cold shower), adult language (we like some freaky dirty talk), and violence. If this is not the kind of stuff you like to read, skip this book. However, if you like dirty, raunchy sex with two men on one curvy sarcastic girl, then this is right up your alley. Enjoy!
Overall Rating: 4.5 Rockin'
★★★★☆
First let me say that I loved this book! It was a fun, sexy read that I didn't want to put down until I finished the last page. It was well written and flowed perfectly. The characters were so real that I fell in love with each of them. Loved the way the author started this book with Daniella's chance meeting with Ms. Wilder at the bakery. But knowing Geri Wilder from previous books in this series, it was not a chance meeting. The author's last book gave a perfect lead in to this one!
The use of a Paranormal Dating Agency is a unique concept and really plays well in this novella! Loved the way it transitioned from Dani's past crush to the present day. Also, the way the book explained Blake and Kane's reason for staying away from Dani even though they were attracted to her when she was younger! When Dani shifted to protect her brother it really added a lot to the book! That shift proved that she was an alpha female and a worthy mate for her two hot hunks.
I love Dani! She is smart, intriguing and so free! An empowered woman who is comfortable in her own skin, even if it's not a typical size 4! The Alpha and Omega are just plain hot! The fact that they each have certain qualities that make up a whole is just so cool. Both characters are smoldering and have a depth that leaves me wanting more of them or wanting my own triad!!! The story kept me interested. I think that the animal magnetism totally rocked! It just goes to show how nature is natural!!!

Hero: 4.5 stars
Heroine: 4.5 stars
Plot: 4.5 stars
Steam Level: 4.5 stars
Cliffhanger: Yes

Would I recommend this book: Yes. This is a hot, sexy read that involves two alpha males and one feisty female that wants to be loved. A really great read that really sizzles!

Would I recommend this author: Yes. Milly Taiden left me panting for the next book in this series with her teaser in the Epilogue. Once again she did a fantastic job setting up her next book in this series. I cannot wait to read more about Geri Wilder and her amazing matchmaking skills.
***Received an ARC of this book from the Author in exchange for an honest review***