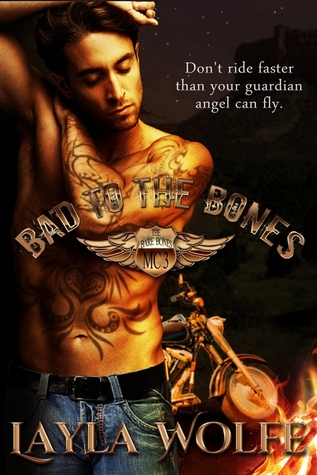 Knoxie Hammett has been The Bare Bones' tattoo artist for years. He's just drifted through life, living it large and performing in their Triple Exposure films, recovering from a divorce he never wanted. Suddenly Knox has a reason to live and to Prospect for the outlaw motorcycle club.
He'll need their help to rescue the lovely Bellamy Jager from the jaws of the warped, cutthroat cult leader who has been holding her hostage for all her adult life. To the neglected, abused teenaged Bellamy, living in the desert canyons off stolen food and time, the sanctity of the ashram looked like a safe zone. But her haven turned to hell and she was drugged and abused, ignorant of any other way of life.
Knoxie will need every one of his Bare Bones brothers and every ounce of bravery he can muster. To save Bellamy and her white slave sisters from the twisted Swami, he'll need to pull off the most daring heist of his life to prove to the club and the world that he's…BAD TO THE BONES
Overall Rating: 3.5-4 Rockin'
★★★☆
Bad to the Bones, a story written by Layla Wolfe, is a destination tale of two polar opposites. It is A Hells Angels meets Waco love story. Knoxie and Bellamy are both damaged goods. This story comes from opposing sides. Both of them abused by ones they put their trust in.
Knoxie has been around the block once or twice. He's jaded from his wife leaving him and taking his children. Although he has a past as a SEAL, he has demons in his closet from younger years when priests molested him. These are the reasons he currently works for Triple Exposure, a pornography video company. In his spare time he hangs with the Bare Bones Motorcycle Club.
Bellamy, has been known as the Master's chosen one, Asanga. She is brainwashed and repeatedly raped by anyone the master deems in an attempt by the master to cleanse and enlighten her. She is discarded like trash and left to die by his order for publicly challenging his decision for her sister's pregnancy.
When Knoxie finds Bellamy dumped on the mesa left for dead, something in him changed. He wants to protect her and chase all her demons away. Will these two broken souls heal one another?
Heroine-Bellamy: 3.75 stars
Would I recommend this book
: Yes!
This book had a grab you storyline. The book would appeal to readers that enjoy a great MC read and are eclectic admirers of gritty romantic novels.
Would I recommend this author:
Yes!
The author's characters are well developed and the storyline will keep you wanting more.
***Received an ARC of this book from the Author in exchange for an honest review***