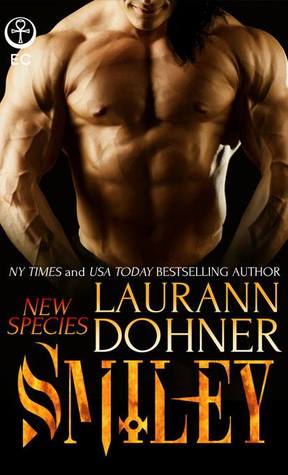 Vanni is furious when her fiancé tricks her into attending a conference where his father's church is protesting the New Species Organization. She hates everything those vile bigots stand for. Vanni goes to the bar to cool off and ends up seated next to a handsome New Species. Things heat up fast when they are both drugged.
Smiley doesn't want to believe the sweet human would dose them with the breeding drug. He's willing to trust her and determined to save her life. He'll hold her. Protect her. Offer up his body to distract them both from the pain. She is his female, even if she doesn't realize it yet.
Overall Rating: 5 Rockin'
★★★★
★
This is Laurann Dohner's Book 13 in the New Species series, Smiley. The NSO are still fighting with human allies to insure the safety of New Species. Those that wish them once again to be caged like animals and used as experiments are once again trying to undermine the progress they have made as free beings. Smiley a beloved character from previous novels becomes the target of this hate and bigotry when he meets Vanni, this is their story.
Smiley is a primate New Species and really wants a mate that he can take care of and claim. He is part of a security team at a conference in the out world, while off duty he meets a special woman, Vanni. When they are drugged with a breeding drug the two of them are thrown into a situation that is filled with consequences for both of them. Smiley knows how the drug will affect Vanni and he is willing to help her survive the side effects. His instincts take over and he finds himself wanting to keep her close. But can the NSO trust Vannie? Is she a member of the church that is speaking out against New Species? Did she drug him?
Vanni is an innocent pawn in an evil plan to destroy the New Species. She had been tricked by her fiancé into attending a conference as a member of his father's church. This is a group that preaches evil and hatred against those that are different, especially the NSO. Feed up with the narrow-mindedness and racism that her fiancé's father is teaching she leaves the meeting. Vanni intended to return to her room but instead finds herself at the centers bar where she meets her first New Species, Smiley. The attraction is undeniable and intense between them. When she begins to feel overwhelming sexual need, Smiley realizes that they have been drugged. He immediately has the bar locked down and notifies NSO. Who has drugged them? Why were they drugged? Where did the culprit get the drug from?
When the two meet Smiley recognizes Vanni as his mate and that is only enforced as they spend time together fighting the drugs symptoms. When Vanni over hears NSO team members talking about her guilt she escapes and goes home not realizing that she is walking into danger. Will Smiley and the NSO find her in time? Read this book and discover more about Smiley and Vanni's struggle to survive!
Hero: Smiley 5 stars
Heroine: Traavanni "Vanni" Abris 5 stars
Plot: 5 stars
Steam Level: 5 stars
Cliffhanger: No
Would I recommend this book: Yes. This is a beautiful science fiction love story, who-done-it that really has everything needed to make an unforgettable read! The hot sexy alpha male, the sweet, innocent female and their sizzling hot scenes will have you panting for more.
Would I recommend this author: Yes. Ms. Dohner does not disappoint her fans with this newest addition to the New Species series. She is on my must read author list and I cannot wait for her next release!