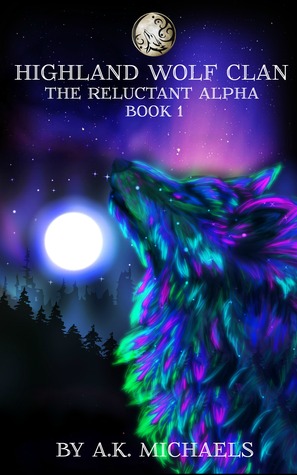 Cameron Sinclair is a successful businessman, with world-wide offices. He's a multi-billionaire with all the trappings, private jet included. But Cameron has a secret – he's also a Wolf. A Wolf who vowed never to return to Pack life, or his birthright as Alpha.
With no choice but to answer his father's summons, he reluctantly returns to his Highland Pack. However, two Alphas in one Pack will never do and things do not go smoothly. Cameron again leaves his Pack to aid his Uncle in the US, with several of his friends in tow.
What awaits is heartache, sorrow and the chance for a new life as Alpha of a large Pack. A life with love in it, his first sight of the white She-Wolf affecting him in ways he can't even understand.
A deadly threat is uncovered and he and his Wolves must defend the Pack by all means necessary. When the threat is a corrupt and depraved Alpha and a horde of immortal guards, can Cameron save the Pack? And, if he does, will he want a part of it?
Or, will he do what he always does – walk away?
Overall Rating: 4.25 Rockin'
★★★★
A. K. Michaels adds a different kink to her new shifter series, The Highland Wolf Clan, The Reluctant Alpha. In this series she introduces a self-made billionaire wolf shifter that has lived away from his clan in the human world, with only his best friend as a reminder of his roots. He is pulled back to his clan when circumstances at home need to be resolved and a new alpha found. Sometimes you have no choice but to select the lesser of two evils and assume your responsibilities to your people. This is the story of a wolf that is reluctant to take his place as alpha, and his stubborn resistance to acknowledging he has a mate when he finds her!
Since breaking free from his domineering, almost to the point of abusive father, Cameron Sinclair has lived more or less as a lone wolf. Raised as the future alpha of his clan by his father, caused him to deny his place with his people and to stay as far away as possible. His heritage is unique in that his father is an alpha wolf shifter and his mother is a witch. Cameron has inherited his mother's magic and his father's power, which makes him one dominant being! Called home to assume his position as alpha is not in Cameron's plans. He is given two choices, one assume his rightful place or go to America and help his uncle resolve an attempt to take over his pack. This is the beginning of Cameron's story and his journey to find out who he really is and where he belongs.
Danger is around every corner, betrayal and death are waiting to defeat him. However, you don't become a successful businessman without fighting and knowing how and what is needed to win. Cameron knows what needs to be done and how to protect his uncle's family and pack. But the unexpected happens when he finds his mate and of course denies it. Everything goes from bad to worse as an evil creeps closer to the pack.

An evil that wants to conquer, destroy and acquire the pack's lands.
Hero: Cameron Sinclair

4.2

5 stars
Heroine: Chastity Dupont 4.25 stars
Would I recommend this book: Yes! Hot shifters that know all about scorching sex and a bad boy alpha that is totally in control of all situations and will keep you reading to the last page.
Would I recommend these authors: Yes! This is my first experience with this author and it will not be the last. I cannot wait to read book two by this amazing author. Her characters are well developed and the storyline is unique and filled with unexpected twist.