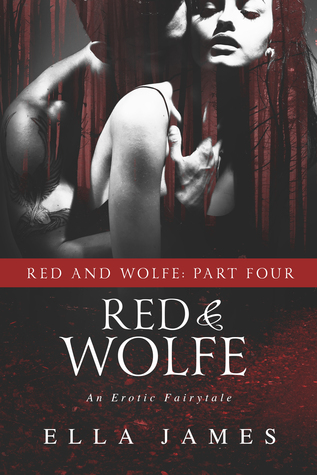 Return to Rabbit Island for the heart-pounding conclusion to Red and Wolfe's story. Don't forget your extra panties - but this time, you might also want to bring your gun.
*This is a serial novella of approximately 30,000 words.*
Overall Rating: 4.5 Rockin'
★★★★☆
Who's afraid of the Big Bad Wolf? Not Sarah Red Ryder. This
is
part 4 and the finale of Red & Wolfe by Ella James
and it
is awesome! The faith in each character portrayed was so eloquently
expressed that
I was blown away.
James Wolfe finally has a reason to live again, Red. But can he save her? Will he be able to save the woman he has let into his heart? Hiding on an island in seclusion for years now, it's time for him to move on, make hard choices and in the process find himself again.
Sarah is in trouble. So much has happened since she came to her dead grandmother's island. Sarah has met the man of her dreams, but there is still so much she's unsure about. Caught up in a windstorm of terror and lust, Sarah must decide what is most important to her. Will she be able to save the one man who has captured her heart, body, mind and soul?
James and Sarah's story finally took the turn I was longing for and I was definitely satisfied with the outcome. From the twists and turns of the story, to the beautiful, long awaited ending, this story captivated me and wouldn't let me go. What an erotic fairytale, Ella! ~TSRBR
Hero – James Wolfe 4.5
stars
Heroine – Sarah "Red" Ryder 4.5 stars
Would I recommend this book: Yes! This whole series is a must read! This book is a great modern day fairy tale with a twist, of course. READ this book!!
Would I recommend this author: Yes! I have yet to read a book by this author and not be blown away! Each book just seems to get better than the last one and makes her readers eager to read the next.
***Received an ARC of this book from the Author in exchange for an honest review***