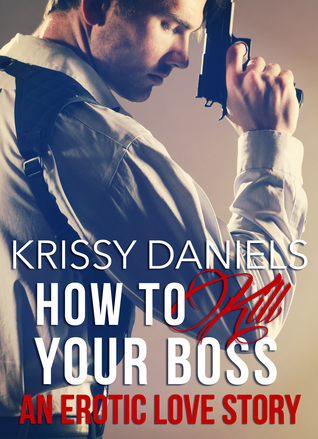 When Tatum's daydreams of murder become a reality, all fingers point to her.
In Tatum Wood's opinion, murdering her boss on a daily basis within the safety of her thoughts is better than therapy. Until he takes a swan dive off a building and all evidence points to her. Thank goodness she has Franklin Reed. Her mysterious, overprotective and drop-dead gorgeous coworker is all too eager to play hero. With two attacks in her building and her stalker with a penchant for roses, Franklin's injection into her life couldn't have come at a better time.
As Tatum and Franklin scramble to discover who's behind the murder, secrets are unearthed that question his motives…as well as his identity.
Overall Rating: 4.5 Rockin'
★★★★☆
What if one day you woke up and everything you thought about your life, your family is a lie? Your entire life is forever changed. How to Kill Your Boss is an erotic love story by author Krissy Daniels and it tells the story of a woman that dreams of killing her boss. In the story when the heroine's dream of killing her obnoxious boss becomes reality, she finds herself in the hot seat because all the evidence points to her as the killer.
Tatum daydream and dreams during the night are about killing her boss. He has taken over her father's business and is a total jerk to her! She needs the job so continues to work for the horrible man! The only redeeming thing is Franklin, a co-worker that really rocks her world. Tatum is attracted to Franklin and willing to get to know him better. But is Franklin hiding something from her? When her world starts to fall apart, Franklin is there protecting her and supporting her. With Franklin in her life, life is once again bearable.
Franklin has loved Tatum for a long time, but always from the outside looking in! When he has the opportunity to spend time with her, he grabs it with both hands. When people start dying around her and she is the main suspect, Franklin steps into protector mode. Will he be able to keep her safe? Will she turn from him when she finds out the truth about him?
Secrets from the past are discovered that will haunt both Tatum and Franklin. Can they overcome the past and have a future together? Will the answers to their questions pull them together or end their relationship?

Hero: Franklin Reed 4.5 stars
Heroine: Tatum Wood 4.5 stars
Plot: 4.5 stars
Steam Level: 4.5 stars
Cliffhanger: Yes


Would I recommend this book
: Yes! If you enjoy sizzling hot sex, hot alpha men and mysteries that need to be solved, then this is your book!
Would I recommend this author:
Yes! Ms. Daniels is an unforgettable author that knows how to create a plot that will enthrall her reads! The characters in her book will haunt you with their stories.
***Received an ARC of this book from the Author in exchange for an honest review***