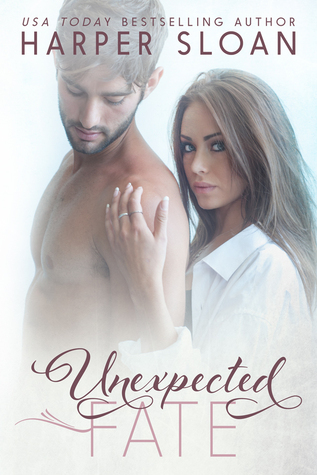 Have you ever felt like you were living your life for a future that was predetermined? Like there was some bigger picture you just prayed you would someday see clearly? That picture has been crystal clear to me since I was old enough to recognize it for just what it was.
Or I should say recognize him for who he was.
I've loved Cohen Cage since I was a small child. He's been my everything for the last twenty-two years. I've loved him through every girlfriend he's ever brought home. Through his college years and then mine. I've loved him through two deployments. And ever since the day I told him how I felt, he's acted like I'm a stranger.
My name is Danielle Reid, and it's time for me to get my man.
Our future is an unexpected fate, and no matter what our parents, siblings, and friends say…it's going to be worth every second of the fight to make it happen.
Overall Rating: 4.5 Rockin'
★★★★☆
Cohen Cage is all grown up and he is the perfect alpha male for Harper Sloan's Unexpected Fate. When I heard we were going to get a glimpse into the grown up life of the cape-wearing-ninja-slaying Cohen, I literally did the happy dance in my living room. Did the story live up to my expectations? Did Harper Sloan hit another home run? Am I a happy camper? The answer is unequivocally...no and ifs or buts about it...YES!
Throughout the story the author creates, we are thrust back into the lives of Corps Security guys and their feisty women. Yes, it is Cohen and Danielle's story, but it is so much more. We are brought up to date on how Axel and Izzy and the gang are faring as their children have become adults. Needless to say, Axel is having a time letting go of his little girl. No one is good enough for his little princess, Dani.
Dani has always loved Cohen. She can't remember a time that he wasn't the center of her world. He might not reciprocate her feelings, but she won't let that deter her. She is going to marry him one day.
Cohen has viewed Dani-girl as a family member. She is younger than him and his best friend is her brother. When she declared her feelings for him, he shrugged them off as a teenage infatuation. Now that she has graduated college and is venturing out into the world he sees her as the woman she always wanted him too. Cohen realizes this a few weeks before his deployment that could potentially be years before he returns and doesn't want her wanting for him.
This story is full of family, friends, love and passion. It was as if I was visiting old friends. Another great addition to Harper Sloan's stories and my library!