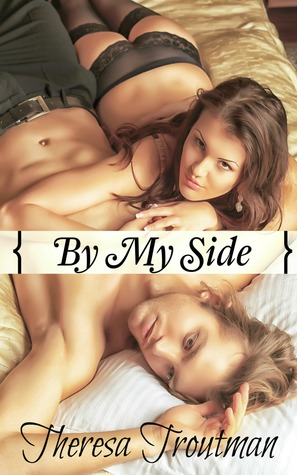 "Maybe it's not what you're running from, but what you're running toward."
Alicia travels to an exotic land, with hopes to reinvent herself. She moves to Auckland, New Zealand, to heal and escape her unhappy past in America.
Hunter works in a bar to distract himself from the memory of a tragic past. Playing in a local band and resorting to one night stands are his only means for an escape from his reality.
Brought together by circumstance, an unexpected romance blossoms between these two tortured souls.
Can being by each other's side bring them the happiness they are desperate to discover? Or will being together break their fragile trust and lead to more heartache?
Overall Rating: 4.5 Rockin'
★★★★☆
Do you believe in second chances? In Theresa Troutman's By My Side, she uses finding a second chance as her platform for her characters, Alicia and Hunter. They are both damaged by things that have taken place in their past and when they meet a spark is ignited. Maybe a second chance can heal their damaged souls.
Changing your home from America to New Zealand may seem drastic but for Alicia it is a way to start a new life and leave the past behind. A past of deceit and unfaithfulness by the man that had promised to love, honor and cleave to her until death parted them was a hard pill to swallow for Alicia. She left her ex behind and vowed never to let a man have that kind of power over her again. When she meets Hunter in an unexpected encounter, Alicia is not prepared for her reaction to him. Should she give him a chance?
One night stands and no commitment is the norm for Hunter since the death of his fiancé. He is haunted by her death and does not seem to be able to move past his lost. His time is spent playing with a band and avoiding relationships. Alicia walks into his life and things begin to change. Is this a second chance for love and HEA for them? Read and find out!
Hero: 4.5 stars
Heroine: 4.5 stars
Steam: 4.5 stars
Plot: 4.5 stars
Cliffhanger: No
Would I recommend this book: Yes! When you have a story of two damaged souls that find a second chance it is bound to be read worthy.
Would I recommend this author: Yes! This is my first read by Ms. Troutman. Her setting, plot and character development insures that it will not be my last. She is an amazing author that writes unforgettable stories about love, romance and finding HEA!
***Received an ARC of this book from the Author in exchange for an honest review***