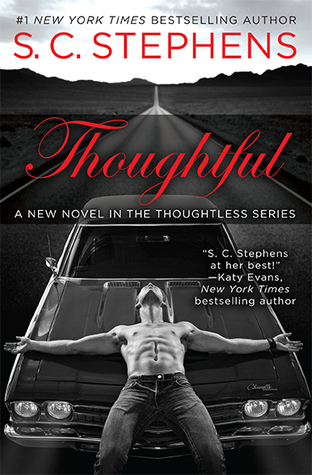 A new novel in the Thoughtless series from #1 New York Times bestselling author S. C. Stephens!
Every story has two sides, and in this new book, the epic love story between Kiera and Kellan is shown through his eyes.
All Kellan Kyle needs is his guitar, and some clean sheets of paper. Growing up in a house that was far from a home, he learned a hard lesson: You're worthless. Now his life is comfortably filled with passionate music, loyal band mates, and fast women...until he meets her.
Kiera makes him ache for more. Makes him feel for the first time that he's worth more. But there's one problem - she's his best friend's girl.
Just when Kellan thought his emotional defenses were rock solid, Kiera's indecisive heart wreaks havoc on his soul, changing him forever. Losing Kiera is not an option.
Overall Rating: 4.5 Rockin'
★★★★☆
S.C. Stephens newest book, Thoughtful, is Kellan's POV of his and Kiera's love story. This is a well thought out and intense look at how Kellan feels about the progression of the on again off again love triangle between Kellan, Kiera and Denny. The characters are well thought out and beautifully created with details that will leave the reader breathless and aching for Kellan, as well as the other characters involved.
Kellan is multi-dimensional. He was abused as a child, never been loved and searching for anything that will give him the ability to feel something that resembles love. Never having it, when his best friend Denny moves into his home with his girlfriend, things change for Kellan in a most unexpected way. Kellan is entranced by the love that the two share, but at the same time begins to long for what they have. Then in a drunken stupor, he lets his guard down and sleeps with Kiera who has captured his heart in a subtle yet very complicated way. Everything changes for Kellan, yet Kiera can't make up her mind which man to choose.
With an endless love affair, it finally comes to an unavoidable end, and the truth finally comes out. In one heart stomping moment, things come to light for the cheating couple as well as Denny. Everyone is hurt and love seems lost. However, when all is settled, love finds a way. Kellan loves passionately and Kiera finally loves without inhibitions. This POV will rock you to the core! I was captured by his longing and need to be loved. This was a wonderful look at how love can conquer all, no matter the circumstances. Thank you S.C. for giving us Kellan's side of the story!
Would I recommend this book: Yes! This is a great insight into how "he" feels with an intense underlying sense of love, passion and unrelenting need.
Would I read other books by this author: Yes! This author has an interesting style of writing. The way she creates her stories is both, touching and beautiful. I enjoy her sense of what her characters POV is and also the way she is able to communicate that in her books.
***Received an ARC of this book from the Author in exchange for an honest review***