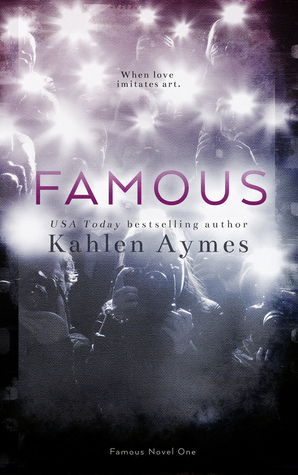 Caden Carlisle is a world-renowned superstar with good looks, million dollar movie deals and women throwing themselves at him wherever he goes. He has it all… but wants nothing more than a normal life without the paparazzi and glitz.
Brooklyn Holloway is an up and coming starlet with a solid head on her shoulders and her eyes wide open. It's all about art for her and she isn't looking to star in blockbuster films. She's perfectly happy keeping a low profile and doing indie projects with a message.
When fate throws the two of them together on set; both are unprepared for their undeniable connection. Cade is drawn to Brook's down-to-earth wholesomeness and she can't help the irresistible pull of his good looks, sense of humor and chivalrous ways... So, when he begins to think he's in love with her, resisting is next to impossible, despite being committed to someone else.
Only when filming ends and the world's fascination with celebrity invades their bubble, can they decide if the emotions they felt on set were scripted, or forever.
Overall Rating: 4 Rockin'
★★★★
Kahlen Aymes starts her new series by making her Remembrance series into a movie. This is the first book in her famous trilogy and is Caden and Brooklyn's beginning. It is the story of finding each other and struggling to find their HEA.
From the beginning Caden cannot deny his feelings for Brooklyn. The more time they spend together working on the movie set and perfecting their parts, the more he wants her to be his. Caden is a superstar, his status as a box office draw is established. He is gorgeous, talented and is truly swoon worthy. How can he keep his hands off of Brooklyn? She is involved with another man and that makes their relationship impossible.
What do you do when you are in a relationship that you no longer want and there doesn't seem to be a way out? Brooklyn Holloway has landed a role in an up and coming movie that will propel her career to another level. Brook has never been one to stress over becoming a star. If it happens, it happens is her attitude. In the upcoming film she will be working with Caden Carlisle and getting up close and personal with him. The chemistry between the two of them is so hot that the air sizzles around them and there is no doubt that it is not just the scenes from the movie that is causing the heat.
As their time together working on the film gets close to the end decisions must be made. Will Brooklyn say good bye to Caden and continue with her other relationship? Or will she say yes to Caden and the love they both feel? Read this amazing beginning to Caden and Brooklyn's journey, you will not be disappointed!
Hero: Caden Carlisle 4 stars
Heroine: Brooklyn Holloway 4.5 stars
Steam: 4 stars
Plot: 4 stars
Cliffhanger: Yes
***Received an ARC of this book from the Author in exchange for an honest review***